In my previous articles,
The data, the new oil or how to preserv data environment (1/3)
The data, the new oil or how to use it in full confidence and trust (2/3)
I discussed how to safely handle and transport the data to ensure its usage and usability in full confidence and trust.
In this article, I will discuss how a clean and mastered data serves as base for the business transformation.
In the oil industry, many new products have been created from petroleum derivatives.
It's not just plastic (despite environmental concerns) but a number of other products have been developed and are part of our daily environment.
This capacity for innovation has been achieved, thanks to,
a mastering the oil supply chain, from the source to its distribution
confidence in the quality of the products transported
it's the same for the data where the challenge is to build a sustainable trust and confidence.
This challenge should be addressed by setting up data governance with secure sources.
This data governance allows
1. To reduce costs due to non-quality
2. Control the process of changing attributes and data
3. To master the present of the company by establishing a trust datum.
In a Data strategy, organization usually group their data into different levels:
Level 1: this is the basic data
Level 2: Business data to improve customer relation
Level 3: Enriched data for better product sales in B2B or B2C
Level 4: Marketing Content Data valuing the product
Level 5: data shared with the company's eco system allowing innovation and transformation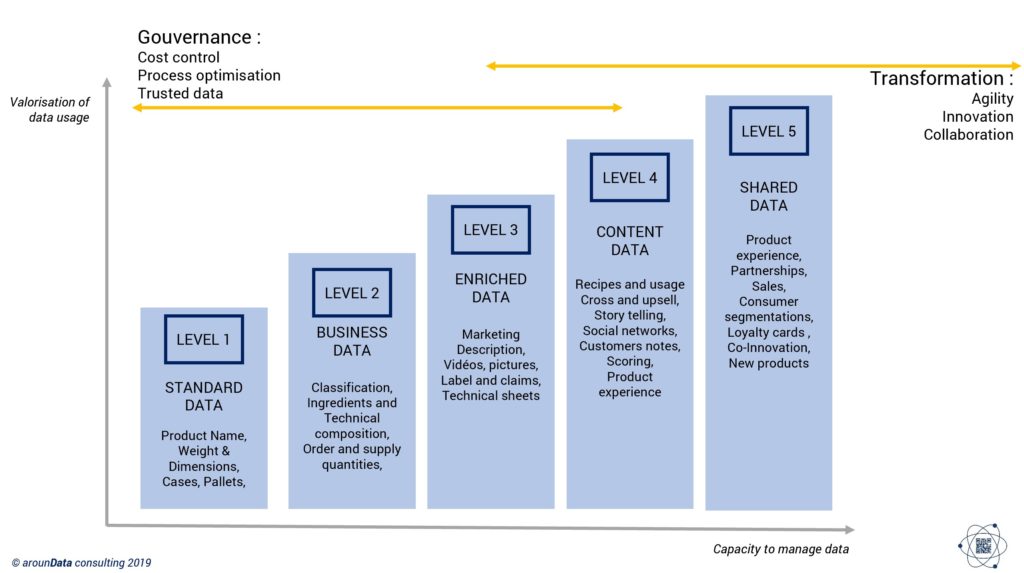 Mastering data levels 1, 2 & 3 enables companies to get rid of the daily problems to master the present.
The company can look to the future by managing new Level 4 & 5 data, which is based on the foundation of the first levels and listening to customers and their needs.
Management of level 4 & 5 data without mastering levels 1, 2 & 3 is generally deficient because organizations do not know how to link the data to each other or it may be very complex. This will lead to frustration in teams and project failures.
With mastering levels 1, 2 & 3, the company can set the foundation to acquire data from its partners (suppliers and customers), share them with them to anticipate the future, imagine new products, new services and sail to new oceans.
The data management is a journey of

managing strategic asset of the company.

Its quality must be managed like the quality of your products.
Do not hesitate to contact us for a first exchange on this subject